Corporate Social Investment
Applications will be accepted from July 2017 for consideration for the Financial Year July 2017 - June 2018. Only projects related to healthcare will be considered on merit, with no guarantee of support.
Key areas of focus are:
- HIV and AIDS
- Mental health
- People with disabilities
- Women and children
- Anti-Substance Abuse
Applicants should be registered as non-profit organisations and able to issue Section 18A certificates.
Applications should be emailed to:
csi@adcock.com
Please note that the Company does not grant bursaries of any kind.
Adcock Ingram believes that being involved in Corporate Social Investment (CSI) activities is a reminder that we have a duty towards the development of our society and that life must be lived fully and with dignity. We have a responsibility to support and give back whatever we can to our disadvantaged communities.
We are truly passionate about people and the communities we serve. We believe that health is the true future wealth of our nation. For this reason we have brought hope to many South Africans who are beneficiaries of our CSI programmes. We engage in meaningful partnerships to extend our goal of contributing to the development of our society and continuing the quest of 'Adding value to life'.
---
Smile Foundation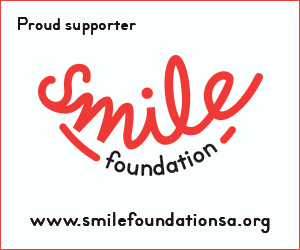 Adcock Ingram is proud to sponsor the Smile Week taking place at Universitas Hospital in Bloemfontein from 5 to 9 September 2016. Click here for more information.
We are proud to once again be sponsoring a Smile Week which will take place at the Universitas Academic Hospital 5 to 9 September 2016, and will bring new smiles to the faces of 25 children who will be undergoing various surgeries.
Our partnership with the Smile Foundation started in 2010 and since that time, we have seen more than 130 children benefit from this sponsorship. Adcock Ingram partnered with the Smile Foundation and the surgeons and medical staff at Red Cross War Memorial Children's Hospital for the Adcock Ingram Smile Week hosted in June 2013. This was followed by the Smile Week sponsored at the Tygerberg Hospital in November 2015.
Adcock Ingram believes in 'adding value to life' in many different ways. Providing the means for these children to have the necessary surgeries that will change their young lives for the better, is one way in which the company is adding value to their lives. Ultimately, the bright smiles, not only on the children's faces but also their parents, are the biggest reward we can receive.
To date, 128 surgical procedures funded by Adcock Ingram during various Smile Weeks
---
Adcock Ingram Adds Water for Life
In keeping with its brand promise of 'Adding value to life', Adcock Ingram has added its weight to drought relief through a much needed donation to the area of Viljoenskroon in the northern Free State. Viljoenskroon, which is a maize and cattle farming community approximately 60km from Potchefstroom, has been identified as one of the areas worst hit by the current drought. On Saturday 23 January, a team of volunteers from the Consumer and Distribution divisions, arrived with a donation of water, wheelbarrows, food and clothing for the community.
Adcock Ingram donated a total of 30 000 litres of water in 1200 x 25-litre containers as well as 200 wheelbarrows. The donation was inspired by the marketers of Adcock Ingram brands, PANADO and COMPRAL, who supplied similar water containers and wheelbarrows as prizes to their informal sector wholesale customers in December 2015.
---