Food & Nutrition Supplements
Shape Suganon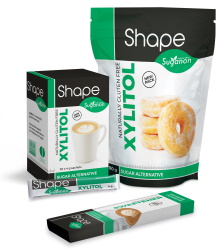 Shape suganon is sweetener range offering a lower kilojoule alternative to sugar.
Shape Suganon tablets is a low kilojoule sweetener that is aspartame and cyclamates free.
Shape suganon Xylitol granules is a naturally occurring sugar alcohol found in most plant material, including many fruits and vegetables.
Shape Suganon sweeteners dissolves quickly to perfectly flavour hot or cold drinks, providing the sweet taste of sugar. It is suitable for use by people with diabetes and should be used in conjunction with a balanced eating plan.
Brand name
Shape Suganon
Description
Low kilojoule sweetner.
Pack variants

Shape suganon tablets (3x500)

Shape suganon Xylitol 500g

Shape suganon Xylitol Stick sachets (30x4g)

Shape suganon Xylitol Stick sachets (1000)

Where available
Retail Stores, Pharmacies, Wholesale and Convenience Stores (Not all presentations may be available in all stores)
This unregistered medicine has not been evaluated by SAHPRA for its quality, safety or intended use. 202005221035385. Adcock Ingram Limited. Reg. No. 1949/034385/06. Private Bag X69, Bryanston, 2021, South Africa. Tel: +27 11 635 0000. www.adcock.com