Digestive Well Being
Freshen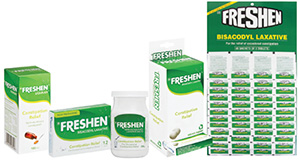 Constipation Relief
Constipation affects so many people around the world at one point or another and cases can range from mild to severe.
Constipation occurs when bowel movements become difficult or less frequent. On average, the time from one bowel movement to the next differs from one individual to another but generally one can expect anything from three movements a day to a movement only twice a week.
If you experience two or more of the following symptoms for any length of time outside of your norm then you may be constipated:
Straining during a bowel movement more than 25 % of the time

Hard stools more than 25 % of the time

Incomplete evacuation more than 25 % of the time
Some of the Freshen range of products are used to help maintain regularity, while others relieve occasional constipation. It is effective and affordable.
Brand name
Freshen
Indication
Freshen Laxatives: For the relief of occasional constipation. Freshen Fibre: Assists with normal bowel movement.
Pack sizes and dosage forms

Freshen Salts 200 g

Freshen Laxative Display Card 3's x 48's Dispenser

Freshen Laxative Tablets 12's Dispenser

Freshen Liquilax 100 ml syrup

Where available
Retail Stores, Pharmacies, Wholesale and Convenience Stores (Not all presentations may be available in all stores)
S0
Freshen® Sodium Sulphate Laxative (salts). Each sachet contains anhydrous sodium sulphate 8,5 g. Each jar contains anhydrous sodium sulphate 200 g. Reg. No. E/11.5/1799.
S0
Freshen® Bisacodyl Laxative. Each tablet contains bisacodyl 5 mg. Reg. No. E/11.5/1668.
S0
Freshen® Liquilax. Each 5 ml contains lactulose 3,3 g. Reg. No. Z/11.5/136. Freshen® Fibre. A3.2.2 Each sachet contains ispaghula husk 3,5 g. For full prescribing information refer to the package insert approved by the medicines regulatory authority. ZA.15.CNM.052 08/2015 Adcock Ingram Limited. Reg. No. 1949/034385/06. Private Bag X69, Bryanston, 2021, South Africa. Tel. +27 11 635 0000